13 Day Brazil's Natural Wonders
Booking Dates
12/18/2022 through 12/16/2023
Travel Dates
10/06/2017 through 12/31/2023
Provider
Kensington Tours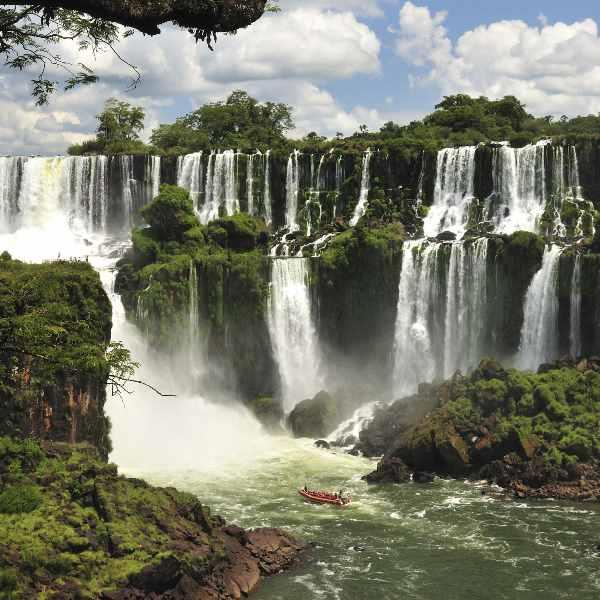 13 Day Brazil's Natural Wonders
Rare is the land that finds harmony in its extremes, but Brazil is nothing if not uncommon. Yes, its busy cities never seem to sleep, but the serenity and natural splendor of the wilderness that surrounds them are the perfect balm to hustle and bustle. The vast wetlands of the Pantanal provide shelter for hundreds of species, including caimans and all manner of colorful birds. The thunderous roar of Iguaçú Falls rivals that of a futebol crowd celebrating a winning strike. Even Brazil's urban environments are in tune with the natural world; the green hillsides of Sugar Loaf are as symbolic of Rio as Carnaval and pristine beaches.
This trip drifts seamlessly between Brazil's metropolitan and natural worlds. From São Paulo, head to the UNESCO-protected Pantanal wetlands for up-close encounters with the local fauna via canoe excursions, nature walks, and nighttime safaris at the 131,000-acre (53,000-hectare) Caiman Ecological Refuge. Later in dynamic Rio de Janeiro, tour the massive Rio de Janeiro Botanical Garden – one of the world's most incredible arboretums – and visit the residents of the Golden Lion Tamarin Project before ascending to the top of Sugar Loaf to take in its stunning views of the city and Copacabana Beach. Finally, witness the stunning sight (and sound) of Iguaçú Falls, the impossibly huge series of cataracts that dwarfs both the falls of both Niagara and Victoria, from a helicopter. Nature surrounds you in Brazil. Become one with it.
Kensington Tours creates private trips from the world's finest ingredients. Tailor-made with care by your personal Destination Expert, your personalized trip is always a one-of-a-kind experience made just for you. Expert local guidance and 24/7 service come standard.
| Day | Description | View All |
| --- | --- | --- |
| Day 1 | Sao Paulo | Details |
| Day 2 | Sao Paulo | Details |
| Day 3 | Sao Paulo To Campo Grande To Pantanal To Brazil | Details |
| Day 4 | Pantanal | Details |
| Day 5 | Pantanal | Details |
| Day 6 | Pantanal | Details |
| Day 7 | Pantanal To Campo Grande To Rio de Janeiro | Details |
| Day 8 | Rio de Janeiro | Details |
| Day 9 | Rio de Janeiro | Details |
| Day 10 | Rio de Janeiro | Details |
| Day 11 | Rio de Janeiro To Foz do Iguaçu | Details |
| Day 12 | Foz do Iguaçu | Details |
| Day 13 | Foz do Iguaçu | Details |